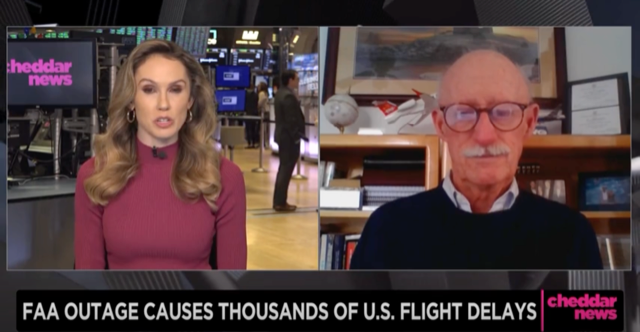 Barry Valentine, a senior advisor at The Wicks Group (TWG) and former Federal Aviation Administration (FAA) administrator, appeared yesterday on both the BBC World Service and Cheddar News to discuss the failure of a critical aviation alert system. Mr. Valentine periodically appears on these and other outlets to talk about national and global aviation, or "when something exciting happens".
The incident in question occurred on Tuesday night, 10 January, when the FAA's Notice to Air Missions (NOTAM) system suffered an outage, which continued into the morning of Wednesday, 11 January, and caused nationwide flight delays and cancellations.
According to Mr. Valentine, his interviewers were mostly interested in what NOTAMs are, as in his words "all of the newscasters around the country and around the world were scurrying to find out what a NOTAM was", given the magnitude of the problems caused by the system's failure.
NOTAMs are used to warn or otherwise update flight crews about changing conditions or hazards in any component of the National Airspace System (NAS). The NAS encompasses almost every element related to air traffic within US airspace, including facilities, equipment, regulations, and personnel. Examples of NOTAM warnings could include closed runways or even air shows taking place in nearby airspace.
It is to the credit of the FAA, noted Mr. Valentine, that no one knew what NOTAMs were, because they have had no reason to learn about them as this is likely the first time the system has failed.
The outage prompted the FAA to order a ground stop at 7am EST on Wednesday morning, although this was lifted when the system was restored around 9am the same morning. Nonetheless, by the end of the day over 11,000 flights had been delayed across the United States, and more than 1,300 had been cancelled entirely.
Mr. Valentine explained that if the outage had happened later in the day, its effects would have been less disastrous, as grounding flights in the morning created a domino effect on all following flights throughout the rest of the day.
A preliminary enquiry by the FAA has traced the problem to a damaged database file, and there does not appear to be any evidence of a cyber attack. Going forward, concluded Mr. Valentine, it will be important for the FAA to determine the exact cause of the glitch, whether it was an accident or not, and to take measures to prevent it from happening in the future.
Established in 1999 and based in Washington, DC, The Wicks Group has a lengthy record of providing technical assistance to CAAs worldwide, including those of India, Panama, Cabo Verde, Azerbaijan, Ukraine, and Trinidad and Tobago. In all, ten FAA Category 1 ratings have been issued to TWG IASA technical assistance clients to date – a 100% track record. TWG also regularly assists foreign air carriers with obtaining the US government approvals needed for US air carrier operations and foreign repair stations with securing FAA certification required to maintain US-registered aircraft.