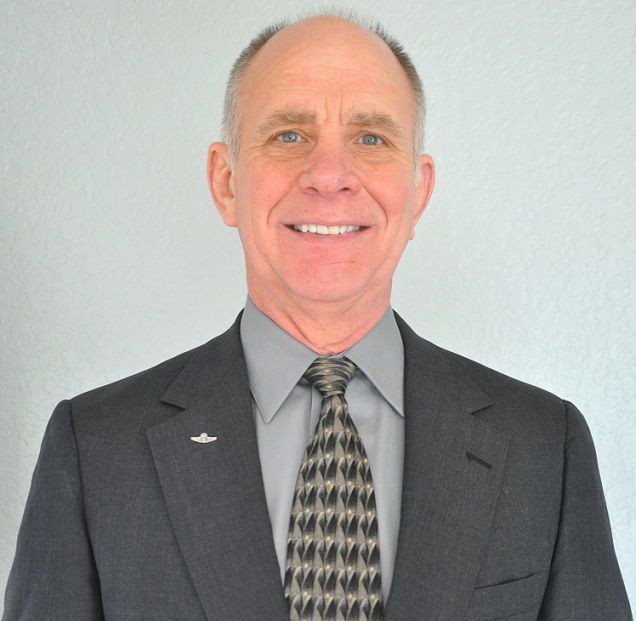 Areas of Focus
IASA Audits and Reviews

Aircraft Standards Development

Civil Aviation Rulemaking

Aviation Safety Inspection

Flight Vision Systems

Human Factors

Air Carrier Training Programs
Education
B.S. (Mechanical Engineering), University of Pittsburgh (PA)

Additional Studies, US Air Force Air War College (AL)
Certifications
FAA Airline Transport Pilot (Airplane), B787, B777, A320, A350, Other

Flight Instructor (Airplane)

Ground Instructor (Advanced)

Turbojet Flight Engineer

Private Pilot (Airplane)

Honors / Recognition
Secretary's Award for Partnering for Excellence,
US Department of Transportation

FAA One AVS Team Award,
Boeing 737 MAX Return to Service
Bryan L. Watson Senior Technical Consultant
bwatson@wicks-group.com
202-457-7790 (office)
330-383-3992 (mobile)
Bryan Watson is a Senior Technical Consultant for The Wicks Group, with a specialization in aircraft evaluation, standards development, and safety oversight. Bryan has more than 15 years of experience with the FAA, first in the Flight Standards Division and then in the Aircraft Evaluation Division, and also served for many years in the US Air Force and US Air Force Reserves. In his final position at the FAA, ending in 2022, Bryan served as the Chairman of the Flight Standardization Board/Flight Operations Evaluation Board for the A320, B-777, B-787, and numerous other aircraft; worked on the joint development with international authorities of FAA pilot type rating, training, and checking requirements for several aircraft; and developed the FAA Master Minimum Equipment List for Boeing, Airbus, and other aircraft.
Bryan also served on the FAA Rulemaking Committee for Enhanced Flight Vision Systems and as the Flight Standards Division Subject Matter Expert on Advanced Vision Systems. In his earlier career at FAA as an Aviation Safety Inspector, he served as the Assistant Principal Operations Inspector for the USAirways B-727 and A320 shuttle, conducted evaluations of Check Airmen and Designated Examiners; and conducted hundreds of check rides and inspections at US airlines. Bryan's US Air Force service was as an Instructor Pilot and in the US Air Force Reserve he served as a C-130H Evaluator Pilot, Commander, and Combatant Commander.
Bryan's TWG experience includes serving as a Senior Operations Technical Consultant for an FAA International Aviation Safety Assessment preparation project for the Angola civil aviation authority. Bryan holds a degree in Mechanical Engineering from the University of Pittsburgh and FAA Private Pilot, Airline Transport Pilot, Flight Instructor, Ground Instructor, and Flight Engineer certificates.
Representative Experience
Served as Chairman, Flight Standardization Board (FSB) / Flight Operations Evaluation Board (FOEB) for the A320, B-777, B-787, Casa 212/235/295, Dassault (all models), DHC-4, EMB-550, ERJ-170, ERJ-190, and Boom Supersonic
Served as FSB/FOED Co-Chairman for the B-737 MAX Return to Service
Conducted operational evaluations on experimental transport category and business aircraft during the aircraft certification process and worked jointly with international authorities to establish FAA pilot type rating, training, and checking requirements
Developed FAA Master Minimum Equipment List (MMEL) for Airbus, Boeing, Dassault, Embraer, Saab, and Lockheed aircraft
Was in the first pilot group in the world to be type rated in the A350, B-787, DA-7X, ERJ-170, ERJ-190, and L-382J
Served on FAA Rulemaking Committees for EFVS and established the FAA EFVS Roundtable to support collaboration between Aircraft Certification, Flight Standards, the Civil Aerospace Medical Institute (CAMI), and industry
Served as the Flight Standards Advanced Vision Systems Subject Matter Expert for CAMI research projects to inform future FAA Advanced Vision Systems policy
Accomplished new flight simulator qualifications with the FAA National Simulator Program
Administered FAA flight certifications in multiple typed aircraft under FAA Parts 91, 121, 135
Evaluated Part 119 operator Check Airmen, Aircrew Program Designees and Part 142 Training Center Evaluators
Developed the first-ever Aircraft Evaluation Division Flight Safety Operational Risk Management Process
Served as an FAA Assistant Principal Operations Inspector for the USAirways shuttle and in other FAA positions for USAirways safety oversight
Served as a US Air Force Reserve Operations Group and Operational Support Flight Commander and Expeditionary Airlift Squadron Combatant Commander
Served as a US Air Force Special Operations Squadron HC-130 Combat Shadow Aircraft Commander and T-37 Instructor Pilot and Chief of Academics